The 2020 NHL Draft Lottery is set to take place tonight, June 26th at 5pm Pacific Time. Due to the pause of the season and anticipated 24-team restart caused by COVID-19, this year's draft lottery will have an unusual format. Normally, the top three selections would be decided by a weighted lottery drawing including the 15 non-playoff teams. This year, however, only seven of the 15 non-playoff teams are currently known. Those seven teams will keep their ordinary lottery odds while teams 8-15 will be assigned placeholder positions, A through H. If one of the unnamed teams wins a top-3 pick, another more complicated drawing will be done sometime after the NHL's play-in round. To help visualize the possibilities, here's a helpful visual from @IneffectiveMath at hockeyviz.com: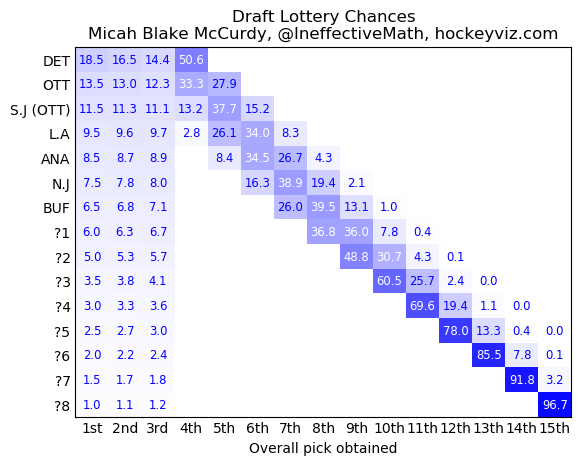 What does all this mean for Seattle?
Although Seattle won't be participating in the 2020 NHL Draft, the NHL's 32nd team could still be affected by the results of tonight's draft lottery. Though it's unknown what Seattle's team name or colors will be, we do know that Seattle will play in the Pacific Division. Two future division rivals, the Los Angeles Kings and the Anaheim Ducks, hold the third and fourth best odds respectively of being awarded the first overall pick and the right to select consensus top prospect Alexis Lafrenière.
Lafrenière has been dominant in the Quebec Major Junior Hockey League, leading the league in scoring with 112 points in 52 games and winning the Michel-Brière trophy as QMJHL MVP. There seems to be a sizable gap between Lafrenière and the rest of the 2020 NHL Draft class, with experts disagreeing on who should be the second player selected.
This means the results of tonight's lottery could have an impact on Seattle far beyond when the team arrives in 2021. A star forward like Lafrenière could terrorize Pacific Division opponents for years to come. Seattle fans should hope the lottery drawing keeps him out of the division.