Welcome to week 2 of our weekly series called "Scouting Spotlight"! Every week, we'll highlight three players around the NHL who are potential picks for the Kraken in this July's Expansion Draft. We'll provide a bit of background on the players and why they're worth watching this week.
Each Scouting Spotlight will finish with a "Game of the Week" which will showcase some potential Kraken players in an exciting matchup.
Here's our picks for Week 2 of Scouting Spotlight:
Schedule this week: Tues. 1/26 @ COL 6PM PT – Thurs. 1/28 @ COL 6PM PT – Mon. 2/1 vs. VGK 6PM PT
We have our first Washington native in this week's edition of Scouting Spotlight! With options like T.J. Oshie and Tyler Johnson, the Kraken will surely consider adding a Washington-born player to their opening season roster. This week, one of Washington's lesser-known names has garnered some attention with his play. Dylan Gambrell was born in Bonney Lake and grew up playing in Kent with the Kent Valley Hockey Association. He moved to Colorado at age 14 and played 3 seasons of college hockey for the University of Denver before joining the San Jose Sharks organization.
The Sharks have a lot of uncertainty among their depth forwards this season and are giving younger players like Gambrell opportunities to earn spots in the lineup. Right now, the Sharks are giving Gambrell the chance to solidify his position as the team's third line center. They're giving him all the help he could need, too. Last game, Sharks coach Bob Boughner put him on a line with speedy rookie Noah Gregor and 30 goal scorer Timo Meier. The trio earned rave reviews in their first game together as the Sharks beat the Minnesota Wild 5-3.
One positive aspect of Gambrell's game that I've noticed recently is his ability to make himself available as a passing option off the rush. Here's an example from last Wednesday's Sharks-Blues game. Gambrell (#7 white) breaks free of his defender (#18 blue) and gets open on the 2 on 1. This provides Gambrell's teammate John Leonard (#43 white) with space, as the Blues defender has to respect the passing option. Leonard is able to use this space to wind up a shot that hits the post, narrowly missing his first NHL goal.
Here's another example from the previously mentioned 5-3 win over the Wild. Gambrell again gains separation from his defender on the rush. This time, the defender is forced to push Gambrell into the net, earning the Sharks a powerplay.
This week may be make-or-break time for Gambrell's chances of earning a full-time NHL spot. If he makes the most of this opportunity, the Kraken will have another intriguing homegrown option in the expansion draft.
Schedule this week: Tues. 1/26 vs. SJS 6PM PT – Thurs. 1/28 vs. SJS 6PM PT – Sat. 1/30 @ MIN 5PM PT – Sun. 1/31 @ MIN 5PM PT
The Colorado Avalanche will be in a difficult position for July's expansion draft. Much of their strategy will depend on GM Joe Sakic's ability to convince defenseman Erik Johnson to waive his no-move clause, thus allowing the Avalanche to expose him and protect another defenseman. If Johnson won't waive, the Avs will be in position to lose an excellent young defenseman to the Kraken, most likely Devon Toews. The Avalanche acquired Toews just three months ago from the New York Islanders in exchange for two 2nd round picks. That's a lot to give up, but Toews' value has only increased since.
Toews has immediately stepped into a big role for Colorado. He's second on the Avs in ice time, averaging a career high 22:54 per game. He's contributed quite a bit offensively too, with 4 points in 6 games. One of Toews' most notable offensive weapons is his dangerous point shot. In fact, he scored on each of his first 2 shots on goal this season. Check out these two almost identical rockets from the point:
Toews and the Avalanche have a busy schedule this week with four games in seven days, so you'll have lots of opportunities to see him continue his run of stellar play. He may very well be the best player available to the Kraken in the entire expansion draft.
Schedule this week: Thurs. 1/28 @ CAR 4PM PT – Sat. 1/30 vs. NSH 4PM PT – Mon. 2/1 vs. NSH 4PM PT
The Avalanche won't be the only team positioned to lose an impact player in the expansion draft. The defending Stanley Cup Champions will surely have to expose someone who's been key to their recent success. Alex Killorn might be the player who makes the most sense for both the Lightning and the Kraken.
The Lightning are in a very tight cap crunch. This month, they got within a staggering $334 of the salary cap when maneuvering to make their opening night roster. Killorn's $4.45m cap hit, while easy for the Kraken to absorb, might be necessary for the Lightning to jettison in order to create flexibility this offseason.
The Lightning's cap woes could mean a welcome opportunity for Seattle to bring in a player most teams wouldn't part with otherwise. Killorn is a consistent 40 point player and is coming off a career year last season, scoring 26 goals. This season, Killorn picked up where he left off, demonstrating his scoring ability with this beautiful toe drag snipe:
When you watch Killorn this week, you may notice a familiar player on the ice with him. Killorn has been playing on Tampa's second line with Spokane native and noted potential Kraken Tyler Johnson. Perhaps Ron Francis could work out a deal to acquire them both and keep the chemistry together in Seattle?
Scouting Spotlight Game of the Week: San Jose Sharks @ Colorado Avalanche, Thursday 1/28, 6:00PM PT on ALT, NBCSCA
Embed from Getty Images
In a rematch of a heated 7 game playoff series just two years ago, the San Jose Sharks will visit the Colorado Avalanche for the second game between the two teams in as many nights.
On the Sharks side, look to see how Dylan Gambrell handles his new 3rd line center role against one of the deepest teams in the NHL. He'll certainly have his hands full with the Avs' skilled forward group. Another player of note is Sharks defenseman Brent Burns, who scored the game winning goal against the Minnesota Wild on Sunday while absolutely surrounded by all six wild players.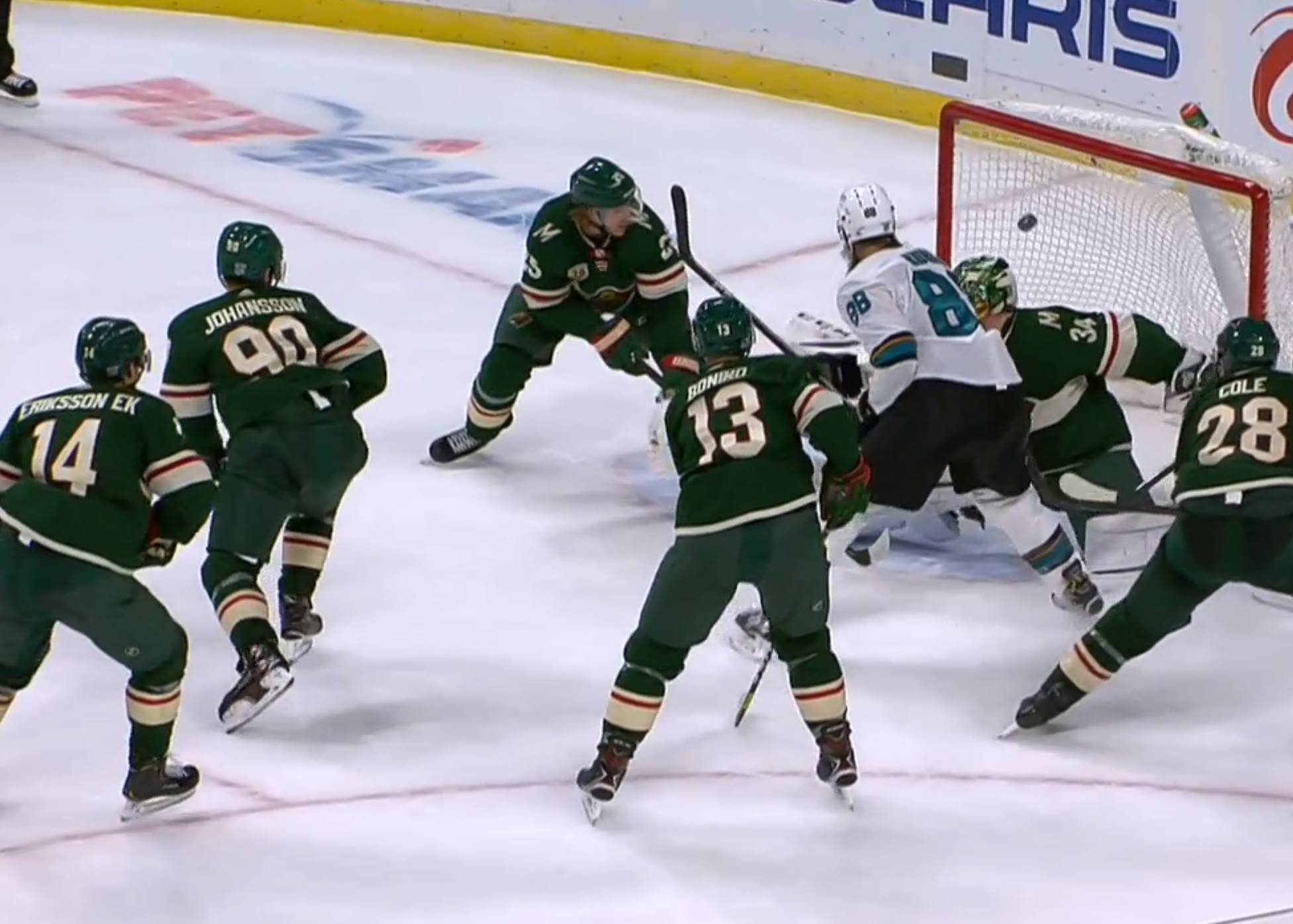 I mean, just look at that… While I would advise against taking him for salary cap reasons, the Kraken may feel that his skill is too exceptional to ignore.
On the Avalanche side, Toews won't be the only player for the Kraken to watch. The Avs have a plethora of enticing expansion draft options. Keep an eye on Tyson Jost, Joonas Donskoi, and Ryan Graves, all of whom should be exposed to Seattle.