Tonight's Kraken-Canucks game will be the backdrop to a truly incredible story.
During the Kraken's home opener against the Canucks on October 23rd, Canucks' assistant equipment manager Brian "Red" Hamilton was routinely moving equipment from one side of the bench to the other when he noticed a fan banging on the glass behind him. He almost ignored it, since glass-banging fans are commonplace around an NHL bench. But the woman banging on the glass was persistent. "She really went over the top to get my attention," Hamilton recalled. Finally, he looked at the message on the woman's phone. It said, "the mole on the back of your neck is cancer." The message caught him off guard. He wasn't aware of any mole on his neck. Still processing the message, Hamilton simply nodded and walked back down the tunnel.
But the message stuck in his mind, and he began talking to the team's doctors about it. "I had never seen it. It was on the back of my neck. I didn't even know it was there. So then when I started asking people like doctors with the team, they didn't like the looks of it either." So Hamilton decided to have the mole cut out and biopsied. When the results came back, they showed the woman at the game was right. The mole was in fact cancer, a type 2 malignant melanoma. Thankfully, it was detected before it became life-threatening. Hamilton said the doctor diagnosed him with cancer and said he was going to be able to cure his cancer in the same phone call, a call he described as "pretty surreal." Hamilton, who is now cancer-free, then realized just how much of an impact the woman at the game had on his life. "The words out of the doctor's mouth were If I ignored that for 4 to 5 years, I wouldn't be here," said Hamilton, reflecting on the gravity of the situation. "She saved my life. She didn't take me out of a burning car like the big stories, but she took me out of a slow fire."
But Hamilton still had some unfinished business: he needed to find the woman who saved his life. He talked to the Canucks' media staff and the team sent out a message on Twitter this morning attempting to find the woman from the game.
Within two hours, the internet did its thing. The woman's mother found the post through the Ladies of the Kraken Facebook group and the hero was identified as Nadia Popovici. According to a tweet from her mother, Nadia didn't see the news when it broke because she was napping after working overnight at a suicide-prevention hotline.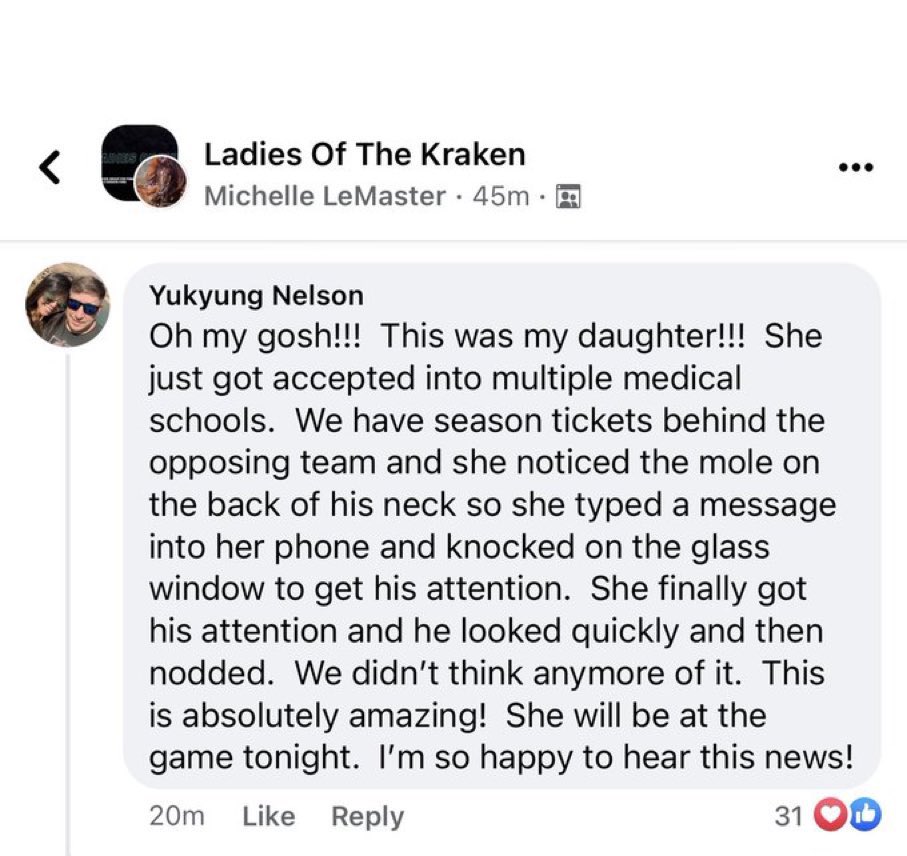 Popovici will be at the Kraken-Canucks game tonight, as she was already planning to go before the story broke today. That means Hamilton will have the opportunity to meet and thank the woman who saved his life in-person. Asked what he'll say to her, Hamilton said "Thank you." and "My mom wants her to know that she loves her." Finally, he said he wants to thank Popovici for her persistence. Hamilton acknowledged that it's not easy to get his attention on the bench but Popovici didn't give up. "I want her to know that her persistence was what saved my life."
With the story quickly spreading and even making national news today, Hamilton is pleased with the reaction, but not for his own sake. He wanted to highlight Popovici's actions and raise cancer awareness. "I'm happy that story's there. Not for me, but for her. Because the world needs to know that this woman exists, she's a hero, and we need to celebrate her and people like her that take the time to do things like this and save lives."